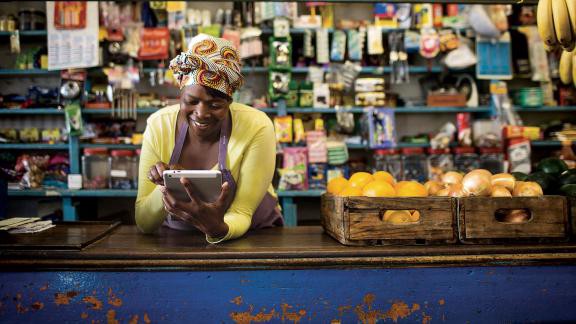 Just like other businesswomen across major cities in Nigeria, Mrs. Fausat Lamina, owner of Amori Stores Surulere, prior to being introduced to Wabi2B, mostly finds it difficult to purchase goods in large quantities at an expensive rate in the market and still transport them to her store. 
Despite the stress and increase in price rates, such businesswomen still have to go and restock their goods in other not to lose their esteem customers. PricewaterhouseCoopers (PwC) in a recent report said that Nigerian women accounted for 41% of the ownership of micro-businesses in Nigeria. 
During the Covid 19 Pandemic in Nigeria, owners of these informal businesses found it more difficult to go and restock their goods in the market. With that in mind, Wabi2B was launched in Nigeria to help ease the stress of going to the market to restock finished goods. 
Wabi2B is a B2B e-commerce marketplace backed Coca-Cola . It enables Fast Moving Customer Goods (FMCGs) to sell all their products directly to the local stores through multiple channels authorizing them to know each customer. What this means is that retailers can simply download the Wabi2B app from Google Play store, register/signup, and start placing orders for the items they sell. 
Wabi2B has over 25,000 retailers and still counting on a monthly basis, of whom 90% are women, who are now able to use their smartphones to order items on Wabi2B themselves. For those who still struggle to place orders online, Wabi2B facilitates offline ordering through connection with the omnichannel contact center or engagement of the field sales representatives, known as hunters.
Mrs. Lamina who started as a retailer and is now a wholesaler on Wabi2B has recorded a 100% increase in sales since signing up. For her, she no longer relies on walk-in customers for sales. Wabi2B provides the retail customers. 
The main goal for Wabi2B is the formation of a platform that will bring convenience to informal businesses owned by women which will guarantee the best price and quickest delivery to customers. Wabi2B has impacted something good in Nigeria as these women who are the economic backbone of Nigeria would have been exempted from the digital economy due to their inability or lack of knowledge about the digital world around them.
Omolara Adagunodo, the Country Manager of Wabi Nigeria and a previous c-level manager at Jumia, sees a lot of opportunities in the emerging B2B e-Commerce business space in Nigeria. She is confident that Wabi2B is well-positioned to help women succeed in their small businesses and at the same time digitise the fragmented SME industry in Nigeria.
According to her, "Wabi2B is the marketplace of choice to help your business succeed. It is a convenient one-stop solution providing a broad assortment of products with enhanced business intelligence & supporting more efficient procurement to drive your sales, improve your productivity and expand your services. More convenience & flexibility".
Also, they are digitising the biggest Road To Market (RTM) in the world which will enable the delivery of a digitally enabled growth model with its eB2B marketplace.