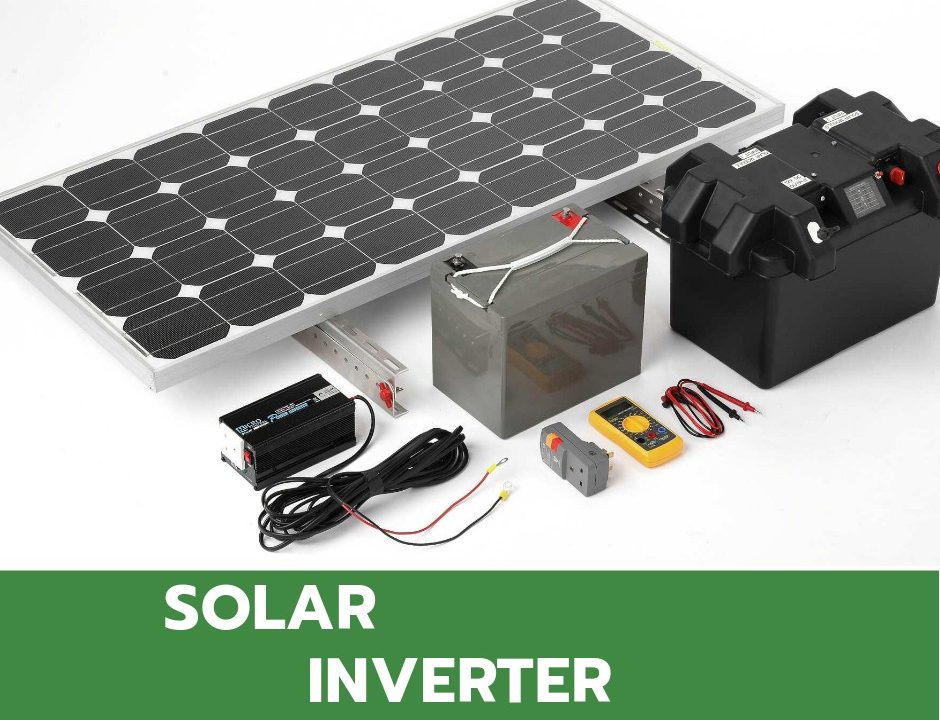 Nowadays, the demand for solar inverters in the market has massively increased, and this is because people now get to see its benefits in residential and commercial use. Even to the extent that the central and state governments are emphasizing the need to switch to solar energy. 
It is good to know that the solar inverter market is currently offering various subsidies for installing solar power systems on residential and commercial properties. 
Why do you think people and the government are encouraging the shift from local grids to solar energy? However, we will discuss some of the benefits of installing an inverter in your home and office in this post. 
Benefits of Installing an Inverter in your Home and Office
Before we jump into the benefits of an inverter, let's briefly explain what an inverter is and so understand its work and importance.
Inverters are electrical converters that convert direct current (DC) energy which is generated from the solar panels into usable alternating current (AC) energy. After the panels themselves, inverters are the most important equipment in the solar power system. The inverter gives analytical information to assist in identifying operations & maintenance to fix issues of the system. 
Having explained briefly what an inverter is all about, below are its benefits:
1. It is a Clean Source of Energy
Unlike exhaustible fossil fuels that cause a lot of pollution, solar energy is a clean and green source of energy. It helps reduce the carbon footprint which is the need of the hour and this reflects in the way governments across the globe have been encouraging renewable sources of energy.
Nigeria, too, is not an exception, and that is evident from the fact that many people across the country have already started installing solar inverter systems on their residential and commercial properties.
2. It Helps Save a lot of Money
One of its benefits is that you can generate electricity for free as its main source of energy is the Sun.
Also, compared to the amount spent on normal grid electricity on yearly basis, the savings that most households make after installing solar inverter systems are such that they can recover their initial cost of investment within 6-7 years. 
The average lifespan of a solar inverter system is anywhere between 15 to 20 years, which means that one can make substantial returns on their investment once they have recovered their initial investment cost.
3. It Provides Relief from long and Frequent Power Outage
Another benefit of installing a solar inverter is that people who live in an area where there are long and frequent power outage and even to the extent the normal UPS inverter is not of much help, installing a solar inverter system will help to reduce their dependence on local grid, thus live comfortably and run their business effectively. 
4. It helps to Regulate Power Voltage
Solar panels produce more energy than your home needs at certain times of the day. The inverter stores excess energy in a battery or discharges excess energy to prevent overcharging of batteries. If there is excessive demand on the power grid, the inverter cuts off power to protect both your equipment and the power grid.
5. It has an In-Built Fault Detector
In the case of aging and degradation of your electrical wiring, solar equipment, damage from lightning strikes and other sources of electrical surges and spikes that can have potential for hazardous electrical faults if not properly maintained, the solar power inverter will quickly detect the issue and shut down, thereby protecting the rest of the system, and alerting you about a service need before any additional damage occurs.
6. It Converts DC to AC Power
This is seen as the most obvious benefit of using an inverter in your solar power system, because, the sun gives off electricity in DC form, and your home uses AC power. Without an inverter, you would need to convert your electrical system completely if you wanted to use this energy source for daily use. But, by having an inverter, you can simply connect the two systems and use both forms of energy without having to make any changes to your existing electrical system. Here, once the local electrical system goes off, your inverter switches immediately to its own energy source.
The above are just but a few of the many benefits of installing an inverter in your home and office. 
Install one today and thank us later as you contact us on: www.techafri.com or visit us at Suite 23 Sentel Plaza, East West Road, Rumuodara, Opposite Deeper Life Headquarters Port Harcourt.